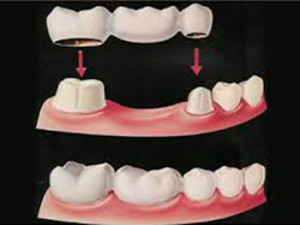 Crown and Bridges
Elite Dental Care is the best Crown & Bridges treatment dental clinic in Noida.We have best dental treatment specialist & services in Sector -77 and Sector 122 and we have best expert team of the crown & bridges treatment Specialist dentists for our patient.
A crown is used to entirely cover or "cap" a damaged tooth & a bridge may be recommended if you're missing one or more teeth. Gaps left by missing teeth eventually cause the remaining teeth to rotate or shift into the empty spaces, resulting in a bad bite. Both crowns and most bridges are fixed prosthetic devices. Unlike removable devices such as dentures, which you can take out and clean daily, crowns and bridges are cemented onto existing teeth or implants, and can only be removed by a dentist.
A crown is a protective covering that restores and improves the tooth's appearance while also shielding and strengthening it. Permanently fixed in place, your crown will last for many years.We may prescribe a crown if you've had a very large filling or a root canal. A crown may also be used to hold a dental bridge in place or as a realistic replacement tooth with an implant. When teeth are misshapen or badly discolored, crowns (also known as caps) can make a big difference in improving your appearance.
We take the time to discuss the various crown options available and work out the best fit for your needs. The first step is to prepare the tooth and take impressions so that your crown can be crafted to match the size, shape and color of your natural teeth. Your new crown will be carefully bonded in place so that it is seamlessly aligned with your teeth.
A bridge helps prevent your other teeth from shifting and the support it gives to your cheeks and lips will improve your looks and also help you speak more clearly. A bridge is secured to the surrounding teeth on both sides of the missing teeth. Most are fixed permanently in place, but some are removable. Feel free to smile with confidence again with a natural-looking bridge. It will replace missing teeth, improve your appearance and make it easier to eat the foods you love.
Elite dental care has a perfect & experience dentist's team in Noida region.
BDS, MDS
(Cosmetic Dentist & Endodontist, Root canal specialist)
Dr. Vishakha Mittal
BDS, MDS
(Paedodontist & Preventive Dentist, Child Dentist specialist)
Dr. Smita Punam
BDS, PGDHM
(Cosmetic & Dental Surgeon)
Clinic 1:  H. No. B-167, Ground Floor, Sector-122, Noida.
Clinic 2: Shop no 8, Elite Mart, elite homz, Sector 77, Noida
Mob: +91-9953769689
E-mail: akarshaggarwal@yahoo.com