Denture
Elite Dental care is the best dental clinic of Denture Services in Noida & we have expert team of Specialist or experience dentist in Noida.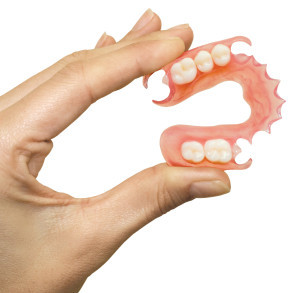 Dentures are removable dental appliances that replace missing teeth. Unlike dental implants and dental bridges, which are more or less permanently affixed to the bone, dentures are prosthetic teeth attached to a supporting structure. Dentures can be removed at night, for cleaning, or whenever desired.
Our practice proudly provides Affordable Dentures and related denture and tooth extraction services. We are located in Noida Sector-122 & Sector-77, AL. Each year, we treat more denture patients who travel from Delhi NCR, Noida  and many other communities in the surrounding area.
The benefits of dentures include increased function and an improved appearance. Additionally, because dentures are removable, many patients find that they are easier to clean than natural teeth and other dental appliances.
Cosmetic Benefits: The cosmetic benefits of dentures are obvious. They fill in gaps left by missing teeth so patients feel more confident about their appearance. Dentures can replace missing teeth or teeth that were in poor condition, prevent further shifting of remaining teeth, support facial structure and integrity, and increase patients' self confidence.
Functional Benefits: Dentures offer a range of functional benefits to patients. Dentures allow patients to eat the foods they want, improve speech (after patients get used to wearing dentures), and typically lasts between five and 10 years (with proper care).
Our dentists in Noida are specialized in dental care with commitment to delivering the best result. We appreciate your decision in selecting Elite dental care to take care of your smiles. At our dental clinic in Noida, our expert dentist's team have taken years of extra training in advanced, specialized, cosmetic, restorative and implant dentistry procedures. We have years of experience and trained on modern technology to provide best in class patient care. A highly qualified team of top dentists, specializing in different branches of dentistry, will always be there for you. Special focus is given to pain management and enhancing patient convenience with features like single sitting procedures.
If you're looking for excellent service and a people-friendly approach, then you've come to the right place. At Elite Dental Care's  Dentures, our ultimate goal is to serve you and make your experience a pleasant one, and our team will stop at nothing to ensure that you come away more than satisfied.
Elite Dental care focus is to maintain the highest international standards in dentistry to provide excellent dental treatments.
BDS, MDS
(Cosmetic Dentist & Endodontist Root canal specialist)
Dr. Shrimant Raman   
BDS, MDS (Prosthodontist and Crown Bridge)
Dr. Vishaka Mittal
BDS, MDS
(Paedodontist & Preventive Dentist, Child Dentist specialist)
Dr. Smita Punam
BDS
(Cosmetic & Dental Surgeon)